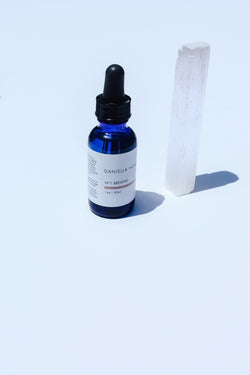 Essential oil Blend N°1 - BREATHE
1oz / 30 ml
Ingredients:
Apricot (Prunus Armeniaca) Kernel Oil, Grapeseed (Vitis Vinifera) Oil, Essential Oils of: Cedarwood (Cedrus Atlantica), Ylang Ylang (Cananga Odorata), Copaiba (Copaifera Officinalis), Vetiver (Vetiveria Zizanioides), Orange (Citrus Aurantium), Vitamin E (Tocopherol)
Usage: 
Our signature blend of carefully selected essential oils to soothe the senses and balance the body. Dab a couple drops onto your wrists, similarly to how you'd use perfume, and enjoy!
OUR PLEDGE
All of our products are created using responsibly sourced, organic produce. Our products harness the natural healing benefits of plants, herbs, essential oils and bees wax. 
Our wellness range of products are not tested on animals.