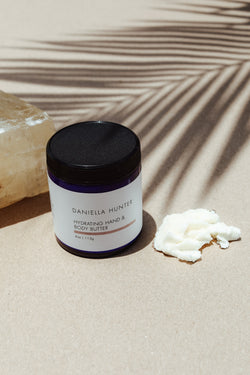 Hydrating Hand & Body Butter
4oz/120 grs
Ingredients:
Aloe (Barbadensis) Leaf Juice, Apricot (Prunus Armeniaca) Kernel Oil, Grapeseed (Vitis Vinifera) Oil, Cacao (Theobroma Cacao) Butter, Shea (Butyrospermum Parkii) Butter, Mango (Mangifera Indica) Seed Butter, Jojoba (Simmondsia Chinensis) Oil, Candelilla (Euphorbia Cerifera) Wax, Essential oils of: Cedarwood (Cedrus Atlantica), Ylang Ylang (Cananga Odorata), Copaiba (Copaifera Officinalis), Vetiver (Vetiveria Zizanioides), Orange (Citrus aurantium), Vitamin E (Tocopherol)
Usage:
A super hydrating butter for hands and body. Apply as needed to dry areas of skin. Avoid contact with eyes.
OUR PLEDGE
All of our products are created using responsibly sourced, organic produce. Our products harness the natural healing benefits of plants, herbs, essential oils and bees wax. 
Our wellness range of products are not tested on animals.