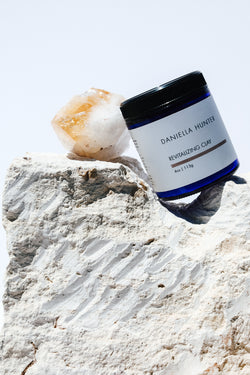 Revitalizing Clay
4oz/ 120 grs
A gentle yet effective detoxifying treatment to draw out impurities from the skin. Enjoy the benefits of aromatherapy during the time of pose and Breathe!
Ingredients:
Kaolin clay, Aloe (Barbadensis) Powder, Marine Phytoplankton (Nannochloropsis Gaditana), Essential oils of: Lavender (Lavandula Angustifolia), Tea Tree (Melaleuca Alternafolia)
Usage:
Mix a small amount of clay with water in a separate pot, until a paste forms. Apply to skin and wait until almost dry before wiping off with a wet cloth. Avoid contact with eyes.

OUR PLEDGE
All of our products are created using responsibly sourced, organic produce. Our products harness the natural healing benefits of plants, herbs and essential oils. 
Our wellness range of products are not tested on animals.