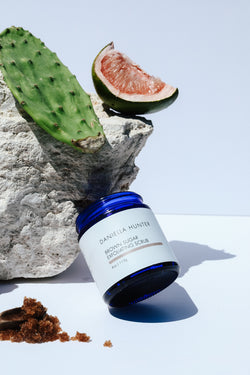 Brown Sugar Exfoliating Scrub
4oz/120 grs
This face & body scrub has an exquisit aroma due to the artisanal hand-pressed Mamey seed oil which comes from a women´s cooperative in southern Mexico. This gentle and clean formula will leave your skin soft, moisturized and renewed.
Ingredients:
Brown Sugar (Sucrose), Coconut (Cocos Nucifera) Oil, Mamey Seed (Pouteria Sapota) Oil, Vanilla (Vanilla Planifolia) Extract, Vitamin E.

Usage:
Apply to face or body and massage gently to remove impurities and detox the skin. Rinse with warm water. Avoid contact with eyes. Use 1 or 2 times a week.
OUR PLEDGE
All of our products are created using responsibly sourced, organic produce. Our products harness the natural healing benefits of plants, herbs and essential oils. 
Our wellness range of products are not tested on animals.