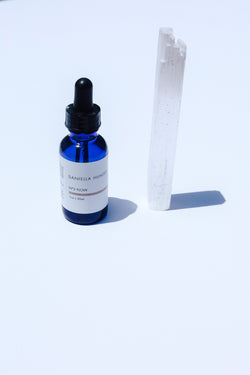 Essential oil Blend N°2 - FLOW
1oz / 30 ml
Ingredients:
Apricot (Prunus Armeniaca) Kernel Oil, Grapeseed (Vitis Vinifera) Oil, Essential Oils of: Lavender (Lavandula Angustifolia), Rose Geranium (Pelargonium Graveolens), Frankincense (Boswellia Carteri), Copaiba (Copaifera Officinalis), Vitamin E (Tocopherol) Oil
Usage: 
Go with the flow...free your Spirit while keeping your feet on the ground... Dab a couple drops onto your wrists, similarly to how you'd use perfume, and enjoy!
OUR PLEDGE
All of our products are created using responsibly sourced, organic produce. Our products harness the natural healing benefits of plants, herbs, essential oils and bees wax. 
Our wellness range of products are not tested on animals.